I walked out to my mailbox on Thursday, opened it up, and looked inside. Wait, it's a package from Amazon! I love packages, I love Amazon. But I didn't order anything. I love surprises.
I got back in to the house and opened the package. Inside was a book Don't Kill the Birthday Girl. My mom had mentioned it to me the week before, asking if I had heard of it. I said no, and just filed the title away to look into later. I didn't realize she was going to send it to me. (Best mom ever, right?)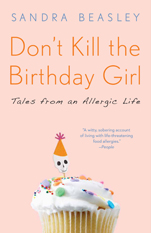 Don't Kill the Birthday Girl: Tales from an Allergic Life by Sandra Beasley
The story: This book is being sold as a memoir, the story of Sandra Beasley who has been severely allergic to a variety of foods for her entire life. To get the real picture there, she had her first reaction on her 1st birthday, and she includes the list of foods she is allergic to: dairy (including goat's milk), egg, soy, beef, shrimp, pine nuts, cucumbers, cantaloupe, honeydew, mango, macadamias, pistachios, cashews, swordfish, and mustard.
While the book unfolds by following Beasley's life and her reactions to food, it is not merely a memoir. Beasley writes detailed scientific information about what is happening in the body when it has an allergic reaction, she examines the prevailing societal attitudes about allergies, she questions why food allergies are becoming more common, she explores the deep cultural ties to food and how it becomes ritualized, and she explains (clearly and simply) what the medical field is researching in relation to allergies.
Beyond being a tale of how Beasley has gotten through life, it is a truly informative look at food allergies and a commentary on the accommodations for those who live with them.
The review: I thoroughly enjoyed this book. To prove how much, I started reading it yesterday afternoon (when my brain felt like sludge from grading and watching 2 episodes of Millionaire Matchmaker -- don't judge) and I finished it at 11 pm. I couldn't put it down.
Ok, the first thing I'll address is the memoir-side of the book. I was fascinated. In one episode, Beasley goes in to her college dining hall and is trying not to eat the same thing that they served her every single day. She just wants the normal meal with her boyfriend. So seeing the risotto, she asks the server, "Does it have dairy?" The server responds, "No." -- and I am yelling, "Yes it does! Yes it does! Don't eat that!!" -- And after a bite, she winds up in the hospital.
The stories were amazing and horrifying. I could relate so completely with her stories of going to restaurants and asking questions and the reactions of the servers, and with her stories of traveling, and with her stories of family gatherings. Her allergic reactions are so severe, which is what makes the stories horrifying. Generally, she describes breaking out in hives, her throat closing, and going into anaphylaxis. Beasley is one year older than I am, so I also liked the references to a life I can totally relate to -- she mentions her college dorm mates downloading songs on Napster.
The scientific and social commentary also fascinated me. Her explanations were really clear. I didn't know all of the medical research that is being done to "cure" allergies, but I find it very interesting. Beasley is also very direct with her commentary on how allergies are being talked about today. As she says, "That's the balancing act." She must go through life working hard to keep herself safe, but she wants to live life, and doesn't expect the world around her to keep her safe.